Are you thinking of buying a house but don't have enough to finance the purchase? This situation is not unique to you; only a few people have enough money in the bank to purchase a home. However, mortgage companies and banks offer loans, known as mortgages, which provide people a way to finance their homes.
While many people first look for a home they want to buy before thinking about a mortgage; it is better to consider your mortgage options first. It is vital to know the amount of loan you can borrow before searching for a house. With the pre-loan qualification process, you can have a good idea of the amount of money that will likely be approved if you were to apply for a mortgage loan. Here are the steps for pre-loan qualification.
1.    Search for a Mortgage Lender You Can Trust
It is vital to find the best mortgage rate for you, but the most important thing is to work with a reputable mortgage lender. Some lenders are backed by a nationally chartered bank, and they service most of their loans which mean you won't have problem with customer service issues in the future.
2.    Safely Apply Online
Many banks and lenders allow you to fill out an online form, which includes:
Personal details such as your name, Social Security number, and date of birth.
Contact details such as your phone number and address.
Employment details like your annual income.
Other financial account information like retirement, saving, investment accounts.
Your desired loan purpose, loan amount, and repayment term.
Since mortgage lenders offer different terms and rates, we recommend applying for several loans to compare offers. These offers usually include details such as the amount of mortgage loan you qualify for and the interest rate. However, these numbers might change after you officially apply and the bank and lender gain insight into your finances.
3.    Perform Soft Credit Check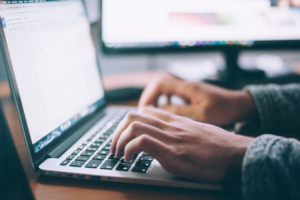 Pre-loan qualification should not impact your credit score. After submitting your form, lenders will perform a soft credit check to decide if you are creditworthy. Keep in mind that this doesn't appear on your credit report. You should pre-qualify with multiple mortgage lenders and banks to find the best loan option for your need. After pre-qualification, if you decide to apply for the loan, the lender or bank will review and verify your financial history and undergo a hard credit check.
4.    Find Out If You're Approved
Your credit score is one of the most important elements your potential lender will consider. Due to this reason, building a strong credit history will increase your likelihood of pre-loan qualification. To build a strong credit history, you need to keep your balances low, pay your bills on time, and complete your credit card balance payment each month to keep the debt low.
You can also consider getting a secured personal loan, which needs you to drop collateral such as a savings account or car to guarantee the loan. Generally, you can easily get approved for a secured loan. However, if you fail to make payments, you could lose your collateral. Most mortgage lenders offer co-signed or joint loans, which let you add another person with better credit to your mortgage loan application, which increases your chances of getting approved.
5.    Formally Apply
Once you submit your pre-loan qualification form, you should be able to view potential loan terms within a few minutes. If you are satisfied with the amount, repayment term, and rate, you are ready to formally apply for a loan. This process generally involves submitting your financial documents such as bank statements, recent tax returns, etc., which the mortgage lender or bank uses to verify your financial information during pre-qualification.
After completing your application, the mortgage lender will do a hard credit check. If your loan application is approved, some mortgage lenders can fund the loan as quickly as the next business day, sending the money into a savings or checking account of your choice.
However, if your loan application is denied, you will get an adverse action letter or notice. This will include details about the credit agency that delivered the report, the reasons why your application was denied, and factors that contribute to your current score.
Conclusion
The process of getting approved for a mortgage is long and complex, getting started with pre-loan qualification. If you are ready to purchase your dream home, getting pre-qualified is a vital step to take. It gives you a clear idea of your budget when shopping for a house, and it will prepare you to make an offer when you come across your future home. Following the five steps above, the process of getting pre-qualified for a loan should be an easy and painless process to get started on a successful homebuying journey.